13 Ways to Increase Brand Reputation and Protect It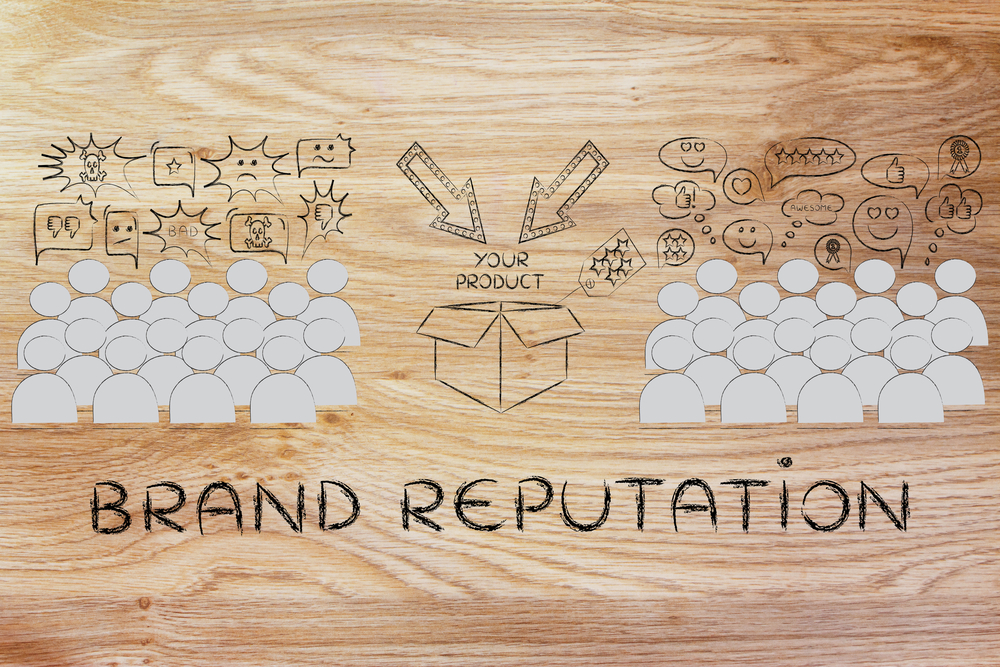 When talking about brand reputation, one of the first things that come to mind is reviews. What are customers saying about your product or service? While that is true, there is more to a brand's reputation than racking up positive reviews. We delved deeper into brand reputation in this post and provided some actionable tips and valuable tools to manage it effectively.
Below is a summary of these tips.
Encourage word-of-mouth marketing
Run a focus group discussion (FGD)
Launch a brand perception survey
Ask for reviews
Use social media listening tools
Track brand mentions online
Monitor third-party suppliers and vendors
Automate customer service and communication
Set guidelines for responding to negative feedback
Monitor possible domain name trademark infringement
Detect cybersquatting
Do defensive domain registration
Investigate domain name history
Before going into the tips above, let us first discuss what brand reputation is and tackle some of its major aspects.
What Is Brand Reputation?
Brand reputation refers to other people's perceptions of your organization or company. These people may include customers, investors, and other stakeholders. Their perceptions are often shaped by their past experiences with a given brand, but other people's experiences could also significantly impact them.
What Is Online Brand Reputation?
Online brand reputation refers to how people perceive a company or an organization online—what they are saying about your brand on the Internet. These days, almost every business is online, so brand reputation has evolved to become almost synonymous with online brand reputation.
This type of brand reputation has several facets, but most can be broken down into three broad categories. These are online reviews, third-party associations, and domain brand reputation.
Online Reviews
People turn to the Internet when searching for a product, service, or particular company. And when they do, they often look for reviews. In fact, the 2020 Local Consumer Review Survey found that as many as 87% of consumers read online reviews. Most also tend to shy away from businesses with fewer than four stars, although they also consider the quantity, legitimacy, and recency of reviews.
Online reviews include those written on social media pages, Google My Business, Better Business Bureau, and other customer review platforms. They help shape a buyer's decision during the most crucial stage of the buying process.
Third-Party Associations
Another aspect of brand reputation that is worth looking into is third-party associations. These may have to do with vendors, suppliers, or organizations that your company deals with. Their failures could have a significant impact on your brand reputation.
Respondents of Deloitte's 2020 Third-Party Risk Management Survey, for instance, said that third-party risk incidents severely affected their reputation, along with customer service, regulatory compliance, and finances.
Therefore, brand reputation is not merely tied to a company's core products and services, but also their associations with other entities. Third-party risk assessment could be a critical aspect of brand reputation management.
Domain Brand Reputation
Domain brand reputation refers to how your brand name is used in the domain name community. Is your brand name or its misspelled variations tied to any malicious activities, such as malware distribution, spamming, and phishing?
To some, that could sound incomprehensible. After all, you already own the domain for your brand (e.g., yourbrandname[.]com). How can someone else use it? But you will be surprised that threat actors can register yourbrandname[.]tk or use other top-level domains (TLDs) and use your brand reputation to lure users. This cyberattack is called "cybersquatting" or "typosquatting" and will be discussed in more detail later on.
Getting involved in any form of cyberattack could potentially hurt your overall brand reputation, so it's essential to keep a lookout at how your brand name is used through domain name registrations.
Take note that domain brand reputation differs from domain reputation, which refers to the email sending reputation of a domain name.
Why Is Brand Reputation Important?
When faced with several options, customers are likely to choose a brand that has a reliable track record. In the words of business tycoon Richard Branson, "Your brand is only as good as your reputation."
A small business looking to migrate to the cloud, for example, would have to select a provider based on security, reliability, and performance. And while cloud service providers can claim to be on top of these metrics, their reputation will speak for them. Potential customers would inevitably conduct research on other organizations' experiences and what they have to say.
Ultimately, brand reputation has a significant impact on an organization's bottom line. It could even make or break customers' decisions to purchase and create a relationship with the company. A Harvard Business School study quantified this as early as 2011. The researchers found that a one-star increase in restaurants' Yelp rating led to a 5–9% increase in their revenue. A more recent study by Bright Local states that only 48% of customers would do business with a company with less than four stars. The rest of the consumers would only deal with businesses that have a near five-star rating.
Actionable Tips for Checking and Improving Brand Reputation
The key to improving brand reputation is to listen. What are people saying or thinking about your company? Here are a few tips that can help you gather this information and improve.
1. Encourage word-of-mouth marketing
Word-of-mouth marketing is when customers relay their experiences with your brand to their friends, family members, and colleagues. According to a recent study, it's one of the most effective forms of marketing, with 51% of consumers saying that they are more likely to trust brand recommendations from their partners and friends.
Encourage customers to relay their favorable experiences with your company to their circles of friends. They could do that by talking about the product offline or creating online content about it.
The same study revealed that 41% of consumers would likely stay away from brands their friends or family members warn them against. Therefore, it's also important to listen to and address negative feedback from customers.
2. Run a focus group discussion
Focus group discussions (FGDs) are commonly done during product branding to collect diverse opinions and insights regarding a given product and how to best approach its branding. The same strategy can be employed to get a feel of the brand's reputation. Gather a group of existing or potential customers and ask them questions, such as:
How do they perceive the brand?
How were their past experiences with the brand (for existing customers)?
What are their expectations of the brand (for potential customers)?
What do people around them say about the brand?
3. Launch a brand perception survey
Brand perception surveys provide insights into how your branding efforts are affecting your target market. They help determine if your branding and marketing strategies are effective, and at the same time, gather data on your brand reputation.
Brand perception surveys could be as intensive as using a form that asks customers multiple questions, such as what words they would use to describe your brand and how they feel about it. They can also be as simple as one-question surveys sent via email.
4. Ask for reviews
After ensuring that customers have positive experiences, it would be beneficial to encourage them to leave positive reviews. For instance, you can send email messages along with links to the feedback page asking recent customers for reviews.
You can also make the request visible and persistent with the addition of popup calls to action on your website. Lululemon, for one, asks its customers for reviews through a scrollable feedback button that is always visible no matter where users are on the website.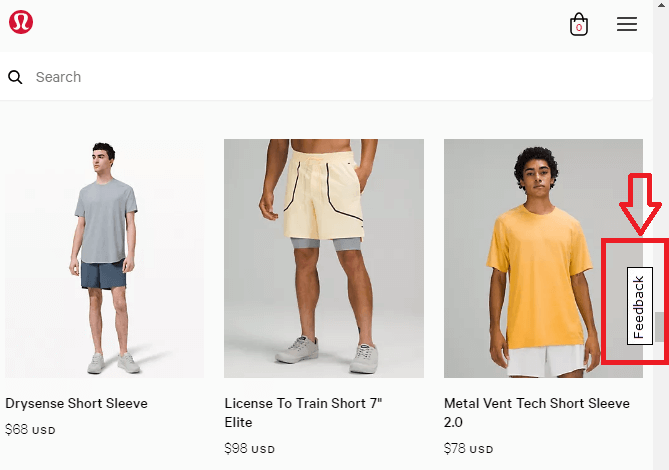 Taking Online Brand Reputation Management to a Higher Level
The managing of online brand reputation has become a priority for several businesses, as it directly impacts revenue. Various tools and techniques can make the process easier, and below are some of them.
5. Use social media listening tools
About half of the world's population is on social media, so it's only normal for your customers to be on there, too. It would be insightful to know what people are saying about your brand on social media sites. The good thing is that you don't have to search for this information manually.
Social media monitoring tools allow you to track tweets, posts and comments that mention your brand or company name. A few examples of such platforms are HubSpot, MentionMapp, and Hootsuite. To illustrate, here's how MentionMapp looks after retrieving tweets that mention two popular dental clinics.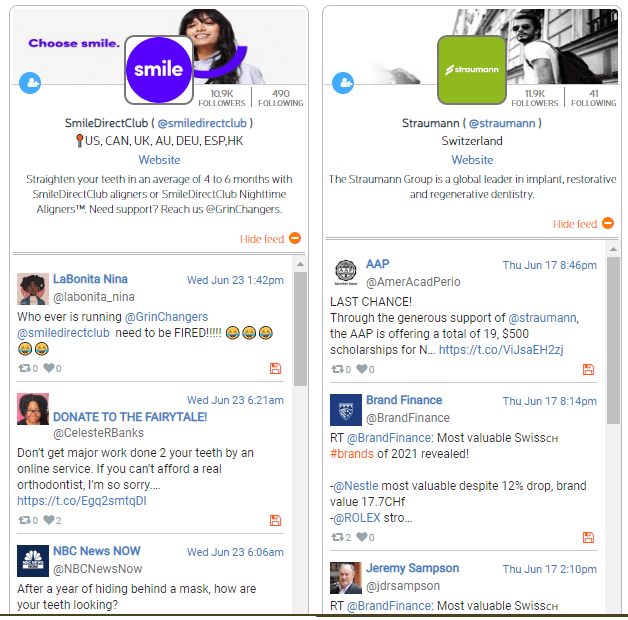 6. Track brand mentions online
One way to stay updated with any online content that mentions your brand is through Google Alerts. Tools like that one remove the burden of manually scouring the web for blogs, news, and other types of content that involves your brand name.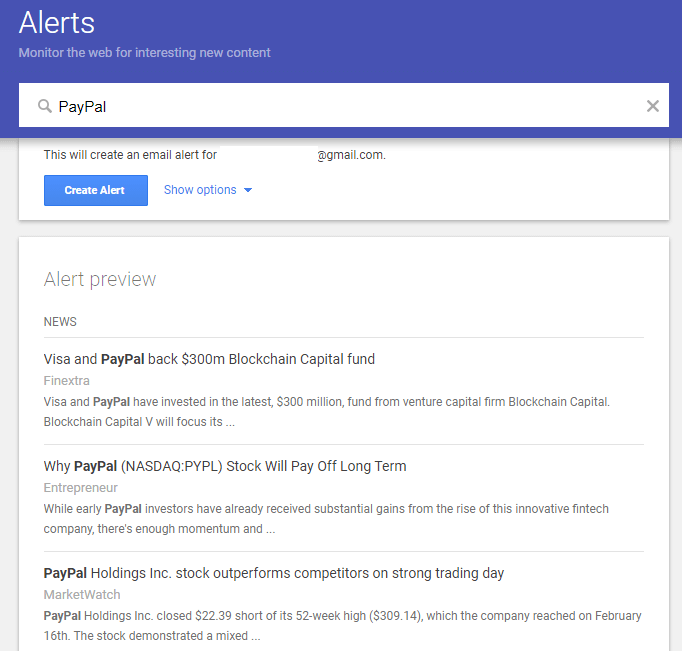 7. Monitor third-party suppliers and vendors
Regardless of what industry you're in, your supply chain could expose you to certain risks that may result in reputational damage. Using supply chain or third-party risk monitoring tools can help avoid such risks.
If you offer temperature-sensitive products, for example, you can use tools that automatically detect and log product temperatures. That ensures the product retains its quality throughout the duration of the shipment.
You would also need to monitor third parties for their involvement in incidents that could affect your reputation. For instance, a cyberattack on one of your software vendors could also mean your data is compromised. As a result, your brand reputation could be affected since customers might think twice about dealing with a company that could have suffered a data breach.
You can use Google Alerts to be on top of any news that could affect your third parties or employ more advanced instruments, such as supply chain risk intelligence platforms, for instance, which automatically monitor your suppliers and provide risk alerts based on real-time data.
8. Automate customer service and communication
Reach out to customers using automation tools that send them messages asking about their experiences with your brand. One example would be deploying email automation software to send custom emails after customers use the product or service. Here's an example: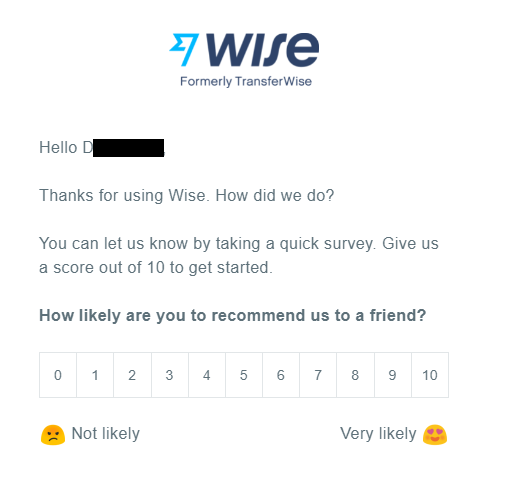 Setting up automatic replies and chatbots on social media platforms can also help answer common customer queries without making them wait for a live company representative. Such responses can make customers feel your company is ready to address their basic questions, which can ultimately improve their experience with your brand.
9. Set guidelines to respond to negative feedback
Your responses to reviews and brand mentions not only reflect your brand but also help build trust and nurture your relationship with your customers. Therefore, it's vital to professionally handle negative feedback. Not doing so could make matters worse and make the negative feedback visible to more people. In fact, 92% of customers are less likely to transact with a business with multiple negative reviews according to the Bright Local study referenced above.
One way to deal with negative reviews is to set guidelines on how to deal with unhappy customers, especially when there are multiple company representatives involved.
Responding promptly to negative feedback is also crucial so it can immediately be resolved and, if possible, removed. For this reason, monitoring brand mentions on the web and social media is essential.
Here are a few examples of how some brands handle negative feedback on Twitter. Some complaints may not even be directly related to the company, such as the hacking attempt into a user's Amazon account. However, it's still crucial to respond to these types of complaints politely and emphatically.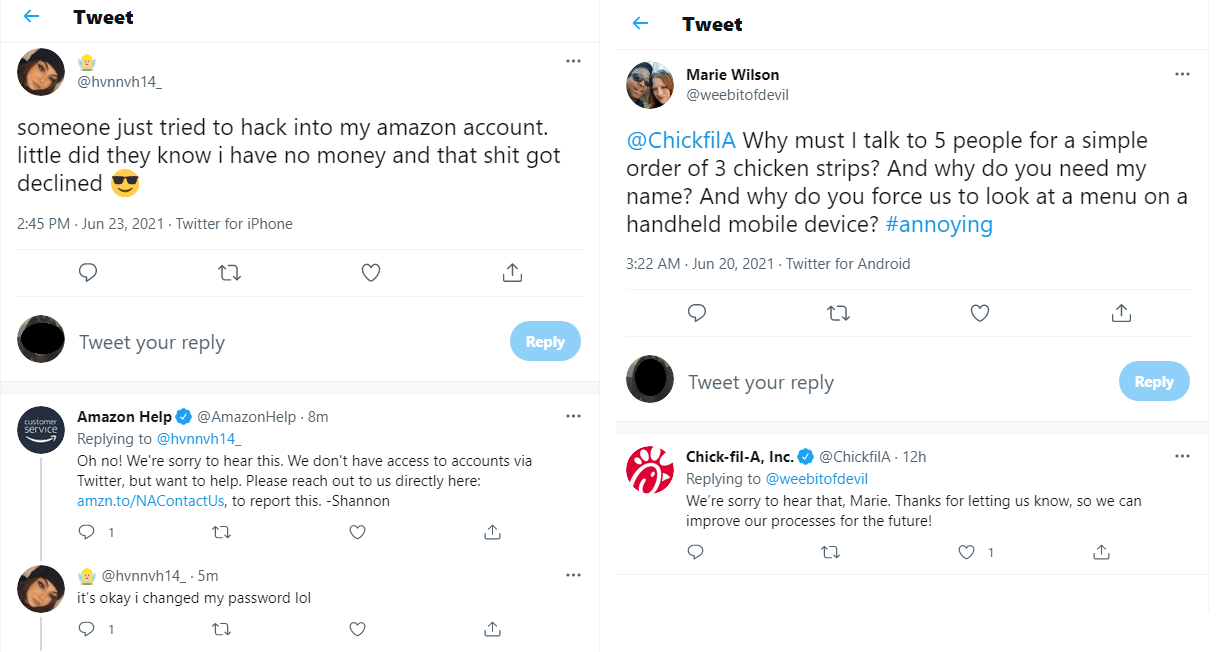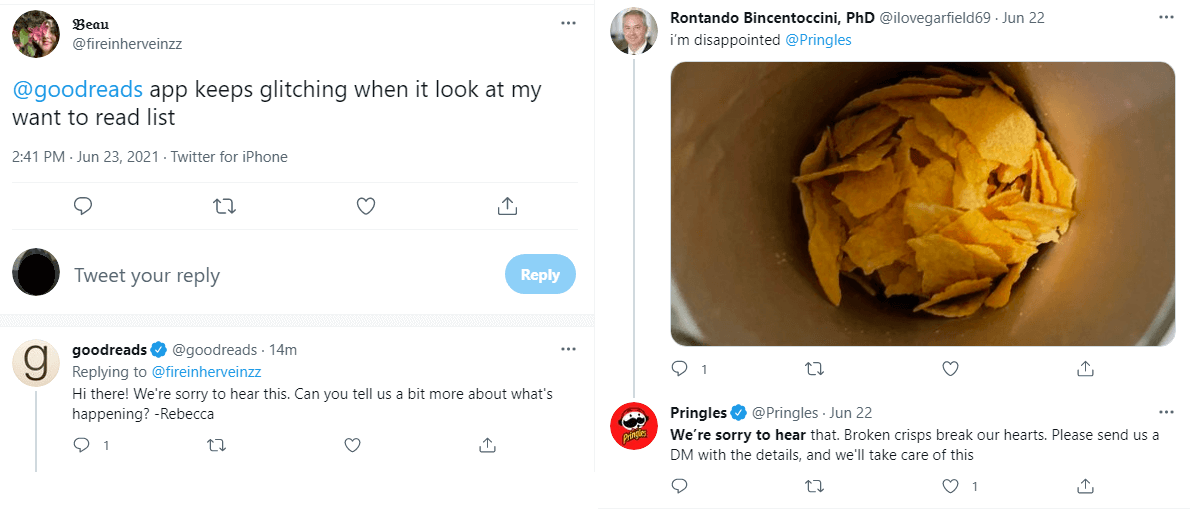 Domain Brand Reputation Management
Another aspect of brand reputation that you should not ignore is domain brand reputation.
Ensuring that malicious actors won't abuse your brand name not only secures your company's image and reputation but also tells customers that you care about their security. The process also helps prevent certain cyberattacks, thereby keeping your data safe from competitors and threat actors.
Below are some tips for monitoring, securing, and improving your domain brand reputation.
10. Monitor possible domain name trademark infringement
Domain name trademark infringement happens when another person or entity registers domain names using your trademark or brand name. They do that for multiple reasons, but among the most common ones are:
Selling counterfeit versions of your products and making them appear legitimate;
Using your brand name in malicious email correspondence, such as phishing and spamming;
Redirecting customers who search for your products to competitor websites.
Monitoring domain name trademark infringement is doable with such instruments as Brand Monitor. You can set up your domain, brand, or trademark name for monitoring, and the tool will provide a list of domains added each day.
For instance, setting up a brand monitor for PayPal resulted in an almost daily notification containing new and expired domains that use the text string "paypal."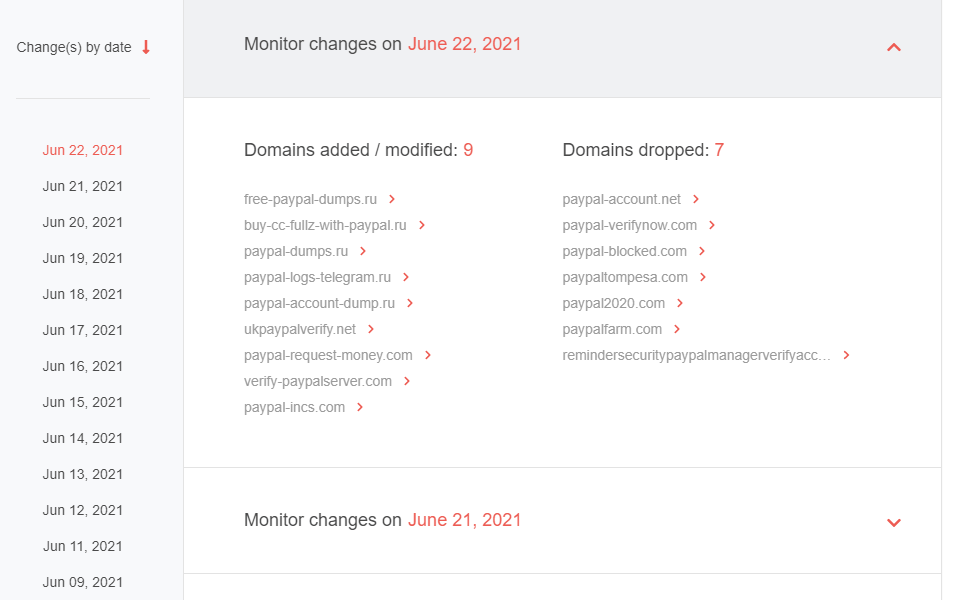 Although not all these domains are necessarily dangerous, further investigation may help PayPal avoid possible issues.
Another tool that can help is Brand Alert API, which returns domain names containing your brand or trademark that were registered within the last 21 days. For instance, an API call for the search term "louis vuitton" returned 79 possible domain name trademark infringement cases.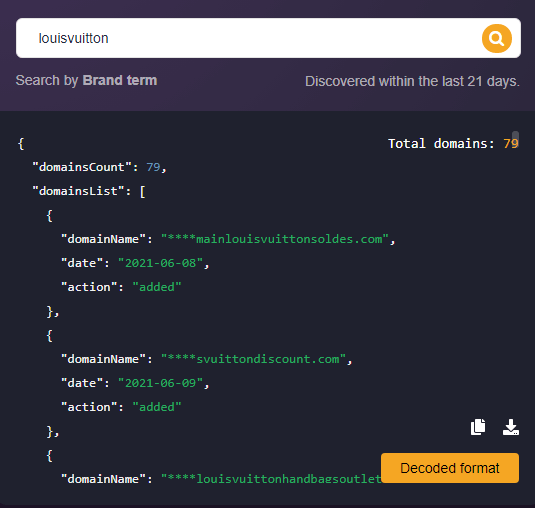 You can then check the ownership details of domains possibly infringing on your trademark using such tools as WHOIS API or WHOIS Search. These instruments provide the registrant's name, organization, and email address, among other details, which might be crucial for further investigations. Below is an example of a WHOIS record for free-paypal-dumps[.]ru.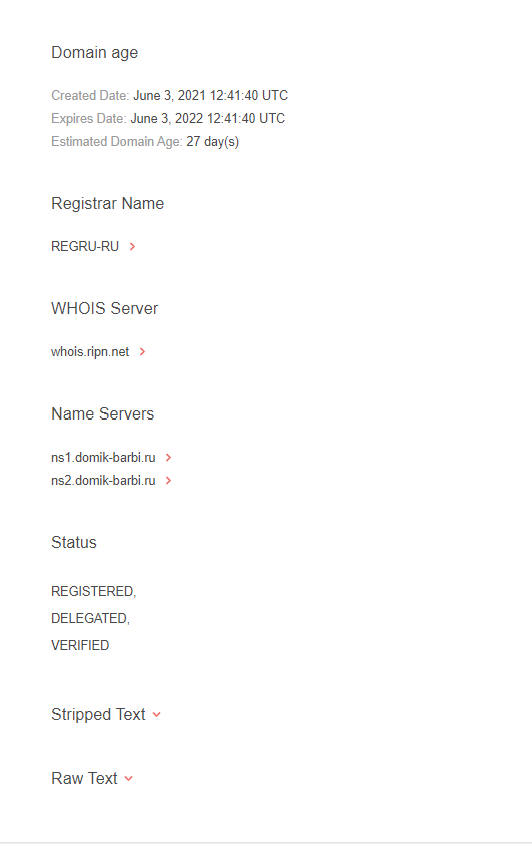 11. Detect possible cybersquatting
Cybersquatting is a tactic where abusers register a company's domain name with ill intentions. They would gain control of domain names that use the exact brand name or its variations. In cybersquatting, this entails registering available domain names.
A recent example of a cybersquatting case is when a group of friends registered the following domains in anticipation of TikTok's popularity:
growtiktok[.]com
tiktokcharts[.]com
tiktokexposure[.]com
tiktokplanet[.]com
tiktoks[.]com
These domains were then used to redirect unsuspecting TikTok users to a follow-for-follow service, promising to grow users' followers for a fee. Such practice is against TikTok's terms of service and could hurt the social media's reputation.
Bytedance.Ltd, TikTok's owner, filed a Uniform Domain Name Dispute Resolution Policy (UDRP) case, and the five cybersquatting domains were eventually turned over to it.
The case highlights the need to monitor cybersquatting domains, especially those that were registered in the same batch. Malicious actors are likely to register more than one cybersquatting domain, evidenced by the TikTok-related domains cited above.
Monitoring can be done aided by databases that capture bulk-registered look-alike domains. An example of this is Typosquatting Data Feed.
To illustrate, we looked at the database for the month of May, 2021 and found 33 Tiktok-related domains. Any of these could be used to operate businesses similar to that of the UDRP case respondents.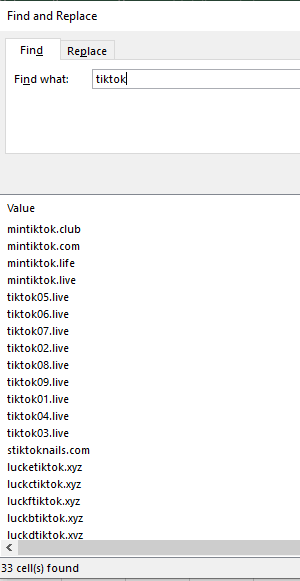 12. Do Defensive Domain Registrations
The TikTok domains above could be used in phishing campaigns targeting TikTok influencers. Competitors may also use typosquatting domains to sabotage the company's image and business. Either way, the company's reputation is at stake.
As previously mentioned, typosquatting occurs when threat actors register variations of a domain name. It would be good practice, therefore, to register domains that may potentially pose risks. One example of this is Bank of America.
The financial organization understands the value of domain brand reputation. In fact, with the help of Reverse WHOIS Search using the registrant email address of bankofamerica[.]com, we discovered that the bank registered more than 10,000 domain names, including those that closely resemble its official domain name. Some examples are:
bankofamerica[.]net
bankofamerica-online-banking[.]com
thebankofamerica[.]com
bankoramerican[.]com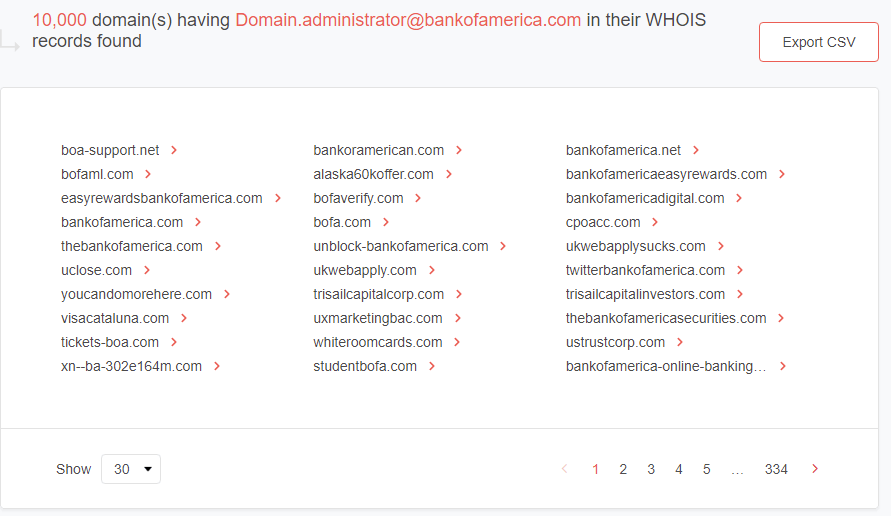 Aside from domains that use the bank's name, it took domain brand reputation management a step further by registering domain names containing the names of its C-suite executives, such as Lauren Mogensen and Laurie Readhead. Domains containing these people's names could be used in social engineering attacks where cybercriminals spoof organizations and their leaders with the goal of obtaining sensitive information from customers or employees.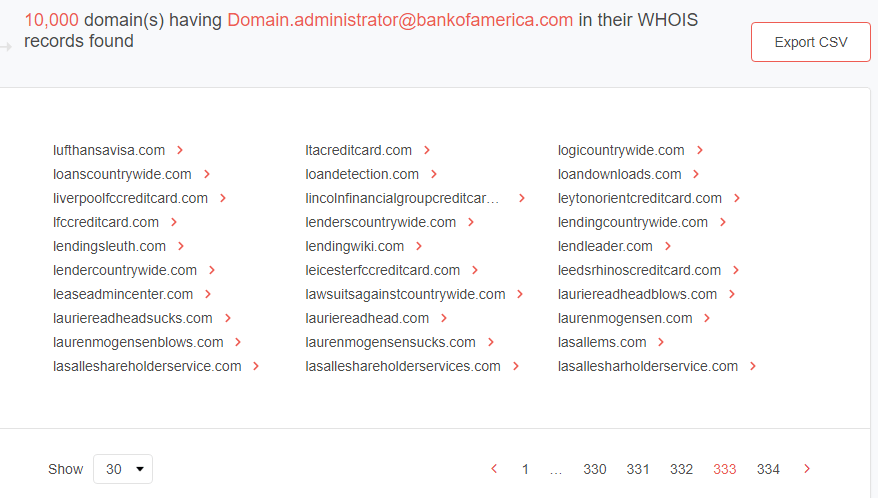 If you want to register a domain and prevent risks to your brand in the future, you may use Domain Availability Check to find out if a particular domain is available for registration.

13. Investigate domain name history
Probing a domain name's current and historical ownership details might sound irrelevant to brand reputation management until you hear horror stories about domains with a malicious or suspicious past.
Back in 2017, a cybersquatter, for instance, was known to register domain names that owners forgot to renew and then hold the domains for ransom. To persuade the original owners to purchase the domains from him, he would redirect website visitors to adult sites.
Several cybercriminals on the Federal Bureau of Investigation (FBI) most wanted list were also known to have registered many domain names, some of which may have been used for nefarious activities.
As you can see, purchasing a domain name with a bad reputation can have unwanted consequences. Among them are:
Associations with past cybercriminal activities
Links to old content that could tarnish your brand reputation
Being listed in malware, phishing, and other cybercrime blocklist sites
Therefore, it's good to check the past ownership records of a domain name that your organization plans to purchase. The exact process could also become an integral part of third-party risk assessment to ensure that your vendors' or suppliers' domains aren't associated with malicious entities and activities.
WHOIS History Search is one tool that can help you dig up the historical WHOIS records of a domain, which can go as far back as 10 years.
To provide an example, we looked up the WHOIS history of littleacornsfostering[.]com, one of the domains hijacked by a known cybersquatter. From July 2012 to July 2017, the domain was registered under the fostering agency's owner.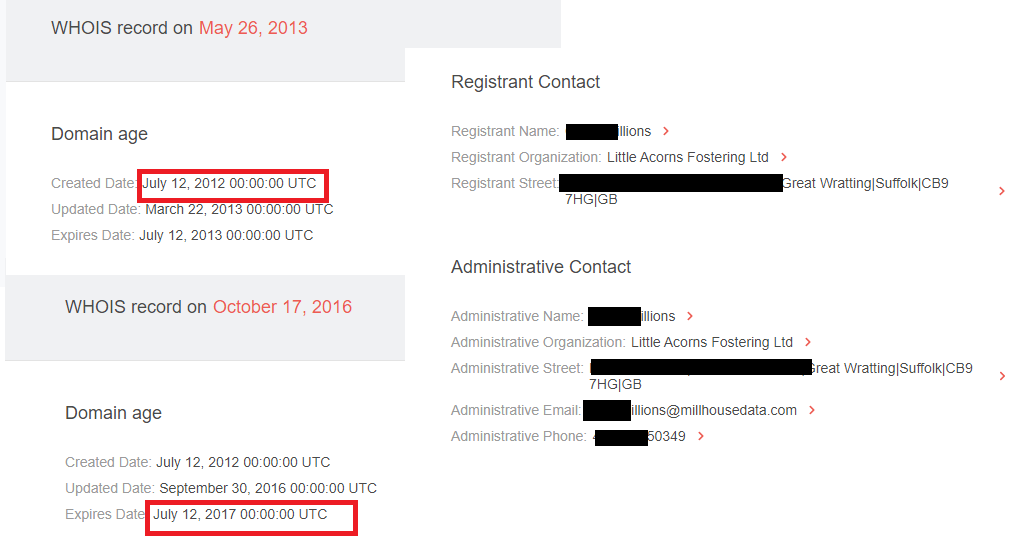 When the owner failed to renew the domain, the cybersquatter immediately registered it, and in August 2017, it was already under a different registrant.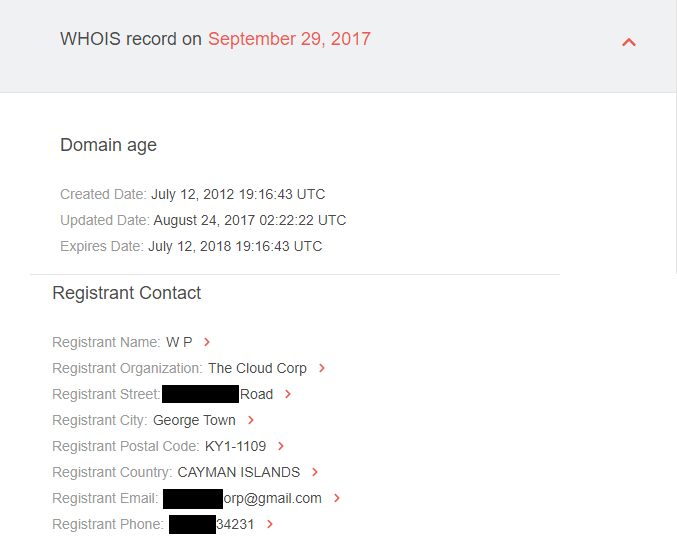 The change of hands is best illustrated by Maltego.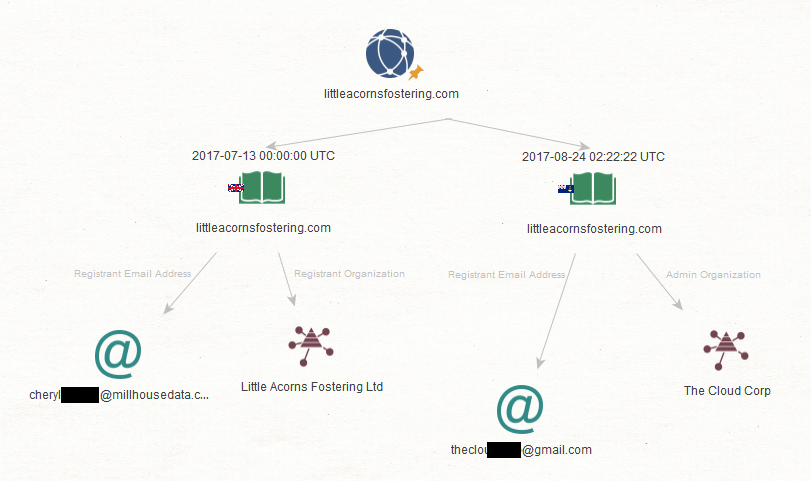 The Wayback Machine captured a snapshot of the domain once redirecting to a page that says "Abuse," which hurt the organization's reputation as a fostering agency.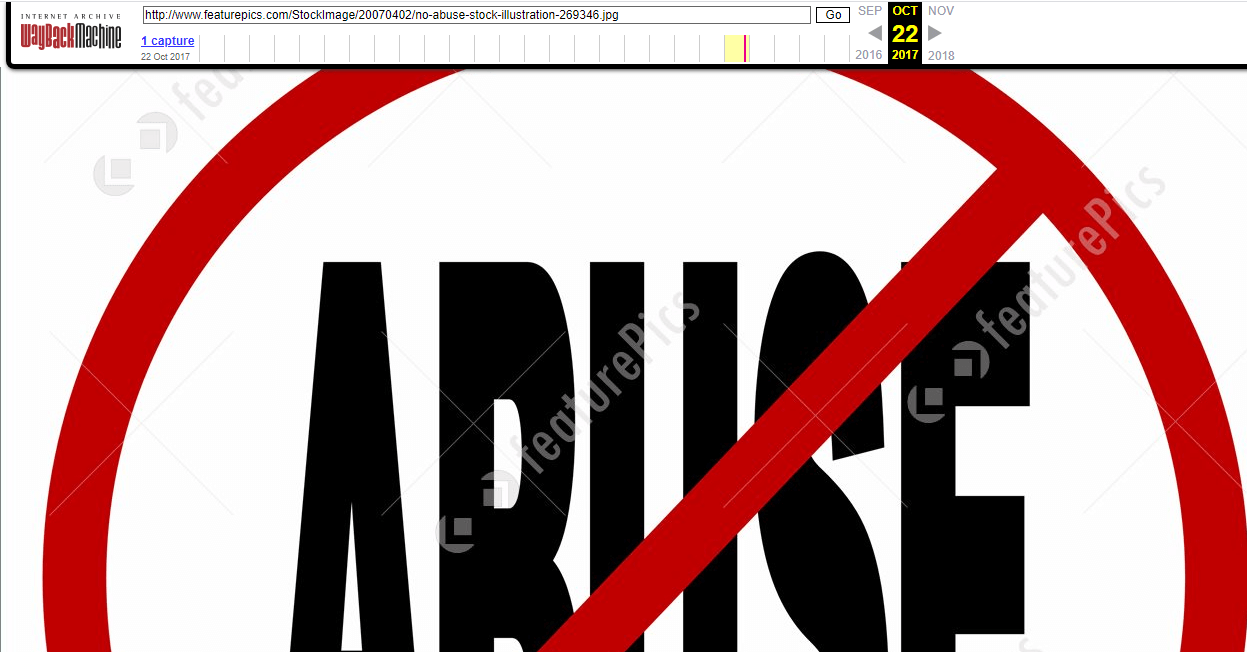 Domain names with a similar history might become available for registration to new owners, especially when the cybersquatter gets caught or loses interest. For example, one of the domains owned by the same cybersquatter above is reddeplantadores[.]org. Domain Availability Check indicates that it is available for registration.

Anyone interested in the domain can register it, unaware that it was once owned by a cybersquatter known to redirect domains to adult websites. As such, it would be best to do some investigations first.
Conclusion
Brand reputation refers to how people perceive your brand, which has a significant impact on their decision to buy your products and, ultimately, on your organization's revenue. Several factors affect brand reputation. We discussed some of the major ones in this post—online reviews, domain brand reputation, and third-party associations.
While domain brand reputation can be managed and improved in various ways, we tackled 13 actionable ways, ranging from the most basic to more advanced items that can be accomplished with the help of tools.