Hot on the Trail of Compulsive Brand Squatters
In this webinar, our panel of experts will showcase how typosquatters are infiltrating the internet & will provide practical and actionable intelligence that can help organizations protect their brand online by proactively detecting & identifying malicious typosquatting domains.
Highlights From This Session:
Why should any domain owner be seriously concerned about typosquatting?
Analysis of large typosquatting domain footprints involving some big brands and trending news topics
How those typosquatting footprints get detected over time on malware engines
Innovative techniques to spot brand squatters and high-risk registrants
Establishing connections between seemingly unrelated bulk domain registrations
How to use AMASS to map brands' legitimate domain infrastructures vs. brand squatters' designated infrastructure
Best practice that can help you proactively protect your brand
---
"It takes years to build a reputation and seconds to destroy it," – Warren Buffet
Domain names are used by internet users to find companies, professionals, and personal websites. Cybercriminals take advantage of domain names' critical role by registering names that appear to be related to established domains or trademarks to profit from them. This practice, commonly known as Cybersquatting, is much more than a nuisance or a trademark issue. Earlier a company's principal fear regarding their domain name misuse was that someone would register a similar domain name to take their site visitors to another website. But today with rapidly advancing cyber threats domain names are commonly being misused for spam, phishing, malware, and other sorts of frauds and cyberattacks, which can pose severe concerns to businesses. Companies now need to upgrade their anti-cybersquatting strategies to adapt to new risks, given the potential for substantial customer and brand harm from such nefarious activities.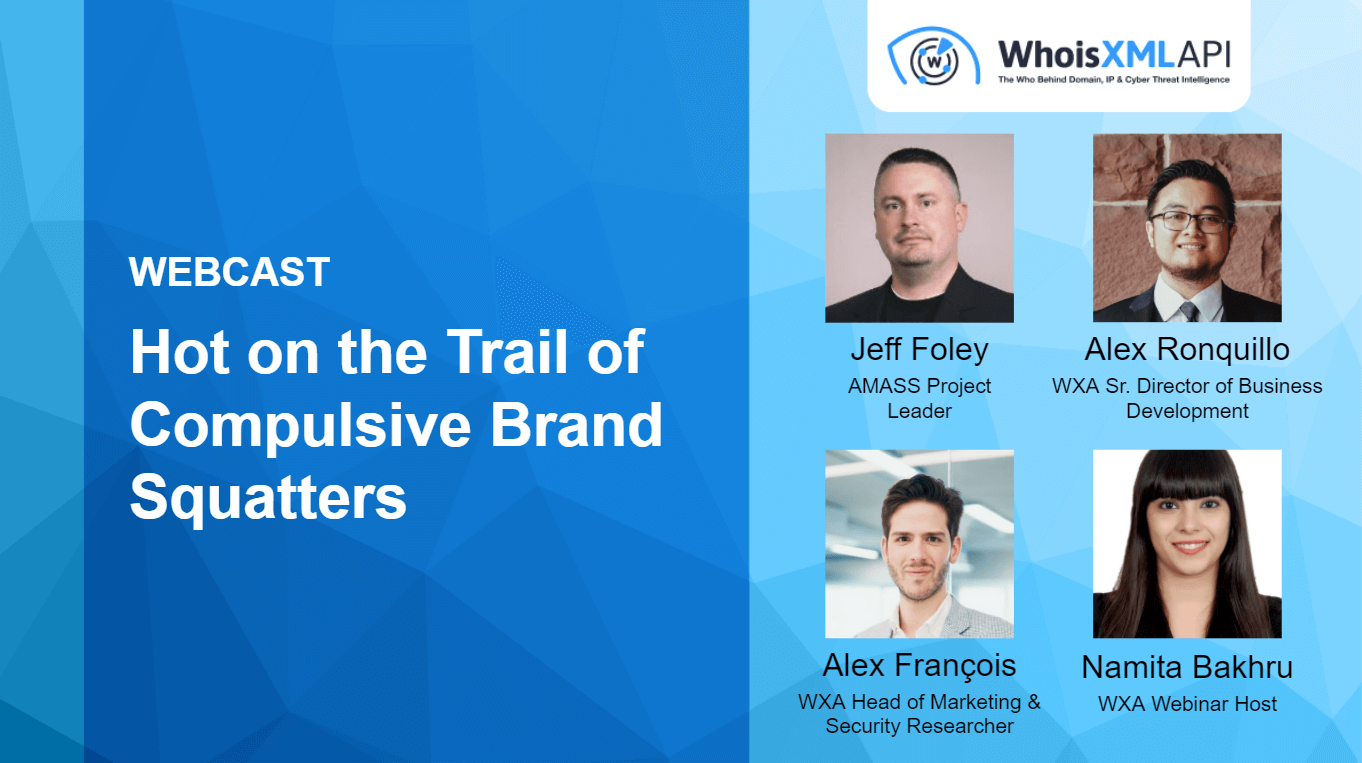 WXA Webinar Host: Namita Bakhru
Featured Speakers: Jeff Foley (AMASS Project Leader), Alex Ronquillo (WXA Sr Director of Business Development), Alexandre Francois (WXA Head of Marketing & Security researcher)